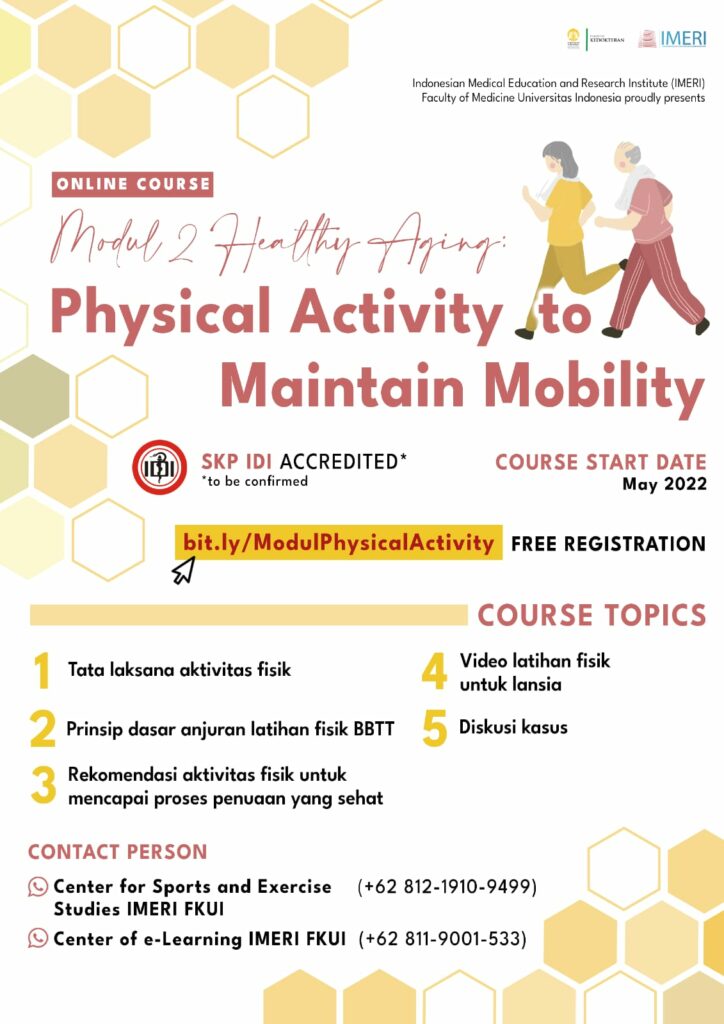 Modul Healthy Aging : Physical Activity to Maintain Mobility

Indonesia Medical Education and Research Institute (IMERI) Fakultas Kedokteran Universitas Indonesia (FKUI) menyelenggarakan pelatihan bagi para Dokter dengan judul "Healthy Aging: Physical Activity to Maintain Mobility" yang dilaksanakan secara daring menggunakan platform berbasis Massive Open Online Course (MOOC). Pelatihan ini didukung oleh PT. Nutricia Indonesia Sejahtera dan merupakan Program Pengembangan Pendidikan Keprofesian Berkelanjutan (P2KB) atau Continuing Professional Development (CPD) yang bertujuan untuk memperkuat landasan pengetahuan para Dokter Indonesia terkait berbagai topik yang berhubungan dengan peran aktivitas fisik dalam mendukung seseorang menjalani proses penuaan yang sehat. Hal ini tentunya menjadi sangat penting mengingat semakin bertambahnya usia harapan hidup manusia semakin meningkat pula kemungkinan munculnya berbagai penyakit degeneratif.
Pelatihan yang menghadirkan Narasumber dari Spesialis Kedokteran Olahraga, Spesialis Penyakit Dalam Konsultan Geriatri dan Spesialis Kedokteran Okupasi ini dikemas dengan memadukan pemberian materi secara synchronous (melalui aplikasi Zoom) dan juga asynchronous (melalui platform Online Course IMERI). Dengan begitu, diharapkan para peserta pelatihan dapat mengikuti pembelajaran sesuai dengan ritme belajar personal, namun tetap dapat merasakan pembelajaran yang interaktif. Materi yang disampaikan juga dikemas dalam tema yang komprehensif, memadukan materi pembelajaran dalam bentuk video, materi rujukan yang dikurasi oleh para Narasumber, serta dilengkapi diskusi kasus untuk memastikan pemahaman peserta terhadap materi yang diberikan.
Pelatihan yang diikuti oleh 256 orang Dokter dari seluruh Indonesia ini berlangsung selama 17 Mei – 30 Juni 2022.