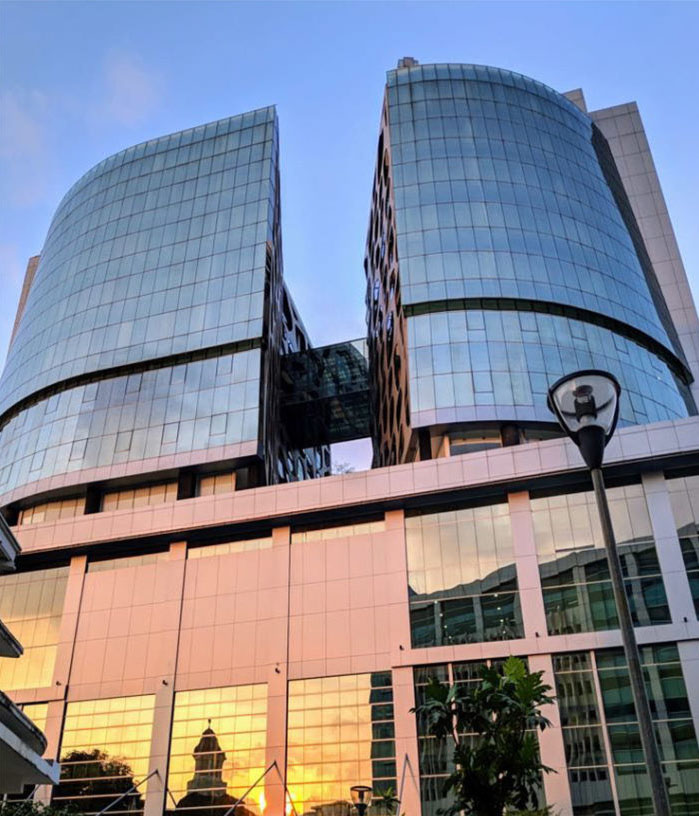 Indonesian Medical Education and Research Institute is lead by Board of Director and supported by experienced heads of clusters and core facilities. The Board of Directors is integrally responsible for IMERI as a medical education and research institute within the framework of FKUI
IMERI's science activities are supported by a Scientific Advisory Board which is composed of national and international senior scientists from different fields of science, including medical, educational and related technical sciences
Groups of researchers from multiple Faculty of Medicine Universitas Indonesia (FKUI) Departments have been invited to participate in IMERI from the start and form their own cluster. These so called medical education cluster and medical research clusters include a wide range of expertise and facilities. Most of the clusters have international collaborations and are part of sustained consortia.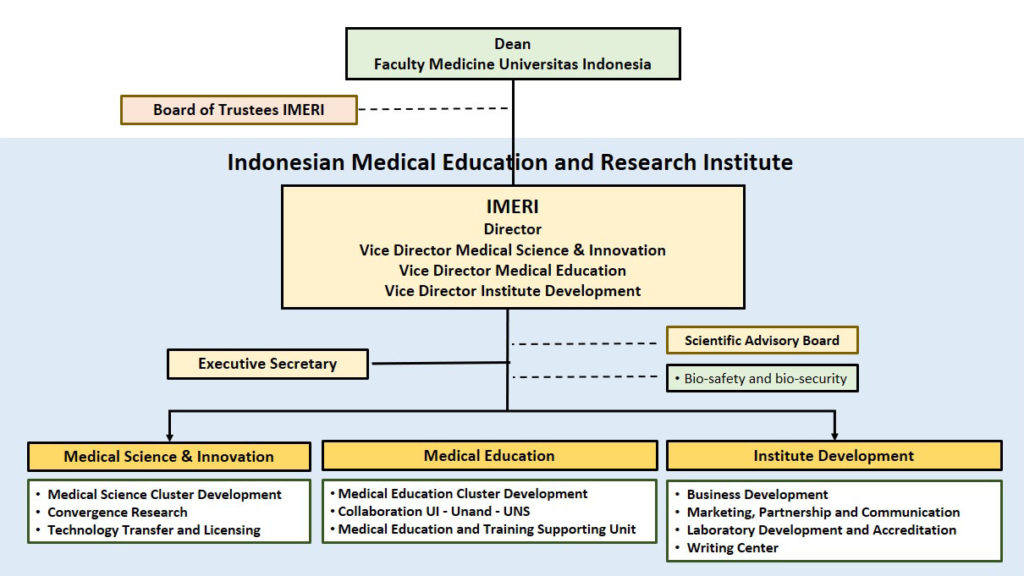 IMERI Organization Structure
Advisory Scientific Board
Chair
: Prof. Henri A. Verbrugh, MD, Ph.D
Member
:
Prof. Pratiwi Soedarmono, MD, Ph.D, SpMK
Prof. Reinout van Crevel, MD, Ph.D
Prof Dr. rer nat Rosari Saleh
Prof. J. Kevin Baird, MD, MSc, Ph.D
Prof. Dr. Pradana Soewondo, MD, Sp.PD-KEMD
Prof. Maria Yazdanbakshs, MD, MSc, Ph.D
Prof. Sultana MH Faradz, MD, Ph.D
Prof. Hubert Endtz, MD, Ph.D
Prof. Dr. Ir. Raldi A. Koestoer, DEA
Dujeepa Samarasekera, MD, MBBS, MHPE
Prof. Dr. Med. Markus Meyer
Prof. Albert Scherpbier, MD, Ph.D
Prof. Robert Norman, MD, Ph.D
Raymond Tjandrawinata, MD, MSc, Ph.D
Board of Director
Director
: Prof. Badriul Hegar, MD, Ph.D, Sp.A(K)
Vice Director of Medical Science
: Prof. Henri A. Verbrugh, MD, Ph.D
Vice Director of Medical Education
: dr. Diantha Soemantri, MMedEd, Ph.D
Vice Director of Innovation and Busisness Development
: Prof. Dr. Budi Wiweko, MD, Sp.OG(K)
Executive Secretary
: Dr. dr. Trinovita Andraini, M. Biomed, Ph.D
Head of Clusters
Medical Education
1.        Medical Education Center
: dr. Ardi Findyartini, Ph.D
2.        Simulation Based Medical Education & Research
: Dr. dr. Aida R. Tantri, SpAn-KAR
3.        Center of e-learning
: Desak Gede Budi K, S.Farm., Apt, M.Biomed
4.        Indonesia Museum Health and Medicine
: dr. Isabella K. Liem, M.Biomed., PA., Ph.D
5.        Knowledge Management Center
: Dr. dr. Purwita Wijaya Laksmi, Sp.PD, Kger
6.        Indonesia Medical Education Collaboration
: Dr. Rita Mustika, Mepid
Medical Research
1.        Infectious Disease and Immunology
: Dr. dr. Erni Nelwan Sp.PD, FACP-FINASIM
2.        Drug Development
: Ade Arsianti, S.Si, M.Si
3.        Occupational and Environmental Health
: Dr. dr. Dewi Soemarko, M.S, Sp.OK
4.        Human Nutrition
: dr. Rina Agustina, M.Sc, Ph.D
5.        Neuroscience and Brain Development
: Dr. dr. Martina Wiwie Nasrun, Sp.KJ(K)
6.        Stem Cell and Tissue Engineering
: Dr. dr. Ismail HD, Sp.OT(K)
7.        Center for Sports and Exercise Studies
: dr. Ade Tobing, Sp.KO
8.        Human Reproductive, Fertility, Family Planning
: Dr. dr. Andon Hestiantoro, Sp.OG(K)
9.        Metabolic Disorder, Cardiovascular & Aging
: dr. Dante Saksono H., Ph.D., Sp.PD.,KEMD
10.    Human Genetik
: dr. Damayanti R. Syarif, Ph.D, Sp.A(K)
11.    Human Cancer
: Prof. Dr. dr. Andrijono, Sp.OG(K)
12.    Medical Research Collaboration
: Dra. Beti Ernawati Dewi, Ph.D
Head of Medical Research Core Facilities
1.        Molecular Bilology, Proteomic, Genone
: Dr.rer.physiol.dr. Septelia Inawati Wanandi
2.        Animal Research Facilities
: Dr. Dra. Puspita Eka Wuyung
3.        Clinical Research Supporting Unit
: Prof. dr. Franciscus D. Suyatna, Ph.D, Sp.FK
4.        Bio-informatics
: Dr. Fadilah., S.Si., M.Si
5.        Medical Technology
: Prasandhya Astagiri Yusuf, S.Si., M.T., Ph.D
6.        Writing Center
: Dr. Hariyono Winarto, Sp.OG(K)
7.        Technology transfer
: Dr. dr. Irma Bernadette S. Sitohang., Sp.KK (K)
IMERI has three stages of organization development : (1) Organizational Establishment (2017 – 2018), (2) Organizational Enhancement (2019 – 2021), (3) Organizational Performance Acceleration (2022 – 2024). It is expected that in the near future all IMERI clusters will attain Medium-High levels on the Attractiveness and Internal Factors scales.