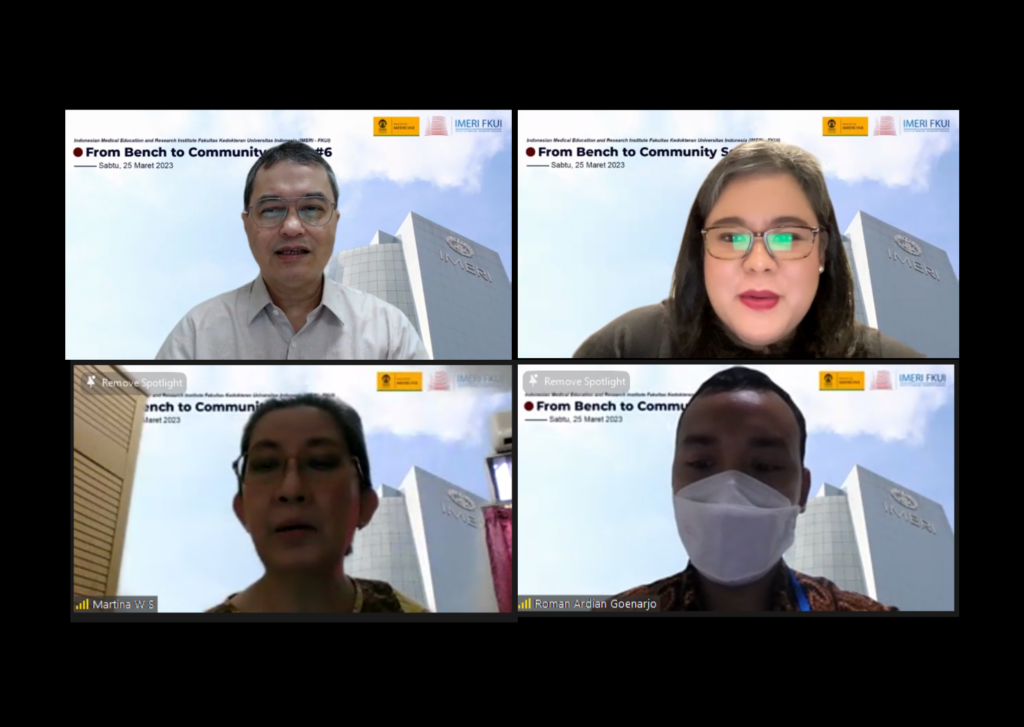 IMERI From Bench to Community Series #6
Indonesian Medical Education and Research Institute Fakultas Kedokteran Universitas Indonesia (IMERI FKUI) sejak bulan April 2022 telah rutin setiap dua bulan sekali menyelenggarakan Webinar From Bench to Community Series, sebuah rangkaian webinar Klaster dan Core Facilities IMERI FKUI sebagai sarana diseminasi hasil riset dan kajian yang dapat diikuti tidak hanya oleh Ilmuwan / Peneliti tetapi juga masyarakat umum.
Pada Sabtu, 25 Maret 2023 lalu telah dilaksanakan webinar From Bench to Community Series keenam dan pertama di tahun 2023 yang dibuka dengan sambutan oleh Prof. dr. Badriul Hegar, Ph.D., Sp.A(K) sebagai Direktur IMERI FKUI dan dilanjutkan dengan pemaparan materi yang disampaikan oleh :
1. Dr. dr. Martina Wiwie S. Nasrun, Sp.KJ(K) mewakili Klaster Neuroscience and Brain Development (NBD) IMERI FKUI untuk materi "Pengaruh Berjalan Kaki terhadap Fungsi Kognitif dan Aktivitas Otak"
2. dr. Roman Ardian Goenarjo, M.Biomed., Ph.D mewakili Klaster Sports and Exercise Studies (SES) IMERI FKUI untuk materi "Efek berbagai Olahraga terhadap Kognisi" dan dimoderatori oleh dr. Diantha Soemantri, MMedEd, PhD sebagai Wakil Direktur Medical Education IMERI FKUI.
Terima kasih untuk partisipasi dan antusiasme para Peserta dan dukungan seluruh Pengisi Acara, sampai berjumpa kembali di Webinar From Bench to Community Series selanjutnya!
— Untuk update informasi kegiatan IMERI FKUI silahkan untuk dapat mengikuti instagram IMERI FKUI di @imeri_fkui