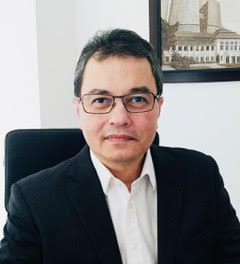 Greetings,
The current increase in available genetic information is the result of sophisticated experimental methods and the centralization of genetic information in public genomic databases. Likewise, data regarding gene regulatory networks and pathways also becomes easier to access. Analysis of genome-wide associations in certain groups of patients produces a large number of candidate disease genes. Connecting genomic data with human diseases is a big challenge in medical education. We are sure that currently there are many scientists and researchers who are interested in this field. Therefore, the 8th ICE on IMERI in 2023 raised this issue to become a very interesting discussion topic for participants.
We respectfully invite you to participate in the 8th Ice on IMERI 2023 to update what people work on this issue, and also share your work, knowledge and experience.
Prof. Dr. Badriul Hegar, Ph.D, Sp.A(K)
Director
Indonesian Medical Education and Research Institute
Faculty of Medicine, University of Indonesia
IMERI – FKUI
The 8th ICE on IMERI 2023
Welcome to the official page of the 8th International Conference and Exhibition onIndonesian Medical Education and Research Institute (ICE on IMERI 2023). The symposium will convene at IMERI Tower, Faculty of Medicine, Universitas Indonesia, Jakarta, from November 10th (Friday) – November 11th (Saturday) 2023.
IMERI as the first Indonesian institute of medical education and research will hold our annual scientific meeting (ICE on IMERI) which highlight the main theme: ""Connecting Data and Genomics to Human Diseases and Medical Education". The 8th ICE on IMERI will bring together a multi-disciplinary group of all professions involved in the field, including researchers, academicians, policymakers, clinicians, engineers, or any other professionals to present and exchange ideas regarding biomedical research.
The conference will use English as the primary language and Bahasa Indonesia as the secondary language. All abstracts and presentations are in English. We are open for participants from all scientific fields from any part of the world.
Main Symposium
November, 10th (Friday) – November, 11th (Saturday) 2023
Topics:
Growing Up Healthy: The Role of genomic and Metabolomic dataset in child health

The importance of genomic data in the fight against AMR (Antimicrobial Resistance)

Gut Microbiota, Metabolomic, and Genomic on nutrition science.

Accelerate a Global Phase Out of Lead Exposure.


Nutrition and NK cells in cancer research and treatment.

Study on Excercise and Neuroplasticity toward Diabetes Mellitus.


Improving inter-professional education by virtual reality simulation.

And many more
Submit your Abstract at https://conference.ui.ac.id/imeri/iceonimeri2023/
Download your guideline here http://bit.ly/ICEonIMERIguideline
Workshop
November, 1-10th 2023
Received all topics related to medicine
IMPORTANT DATE
Abstract Submission                                    : October 7 – 14th, 2023.
Abstract Acceptance Notification              : October 18th, 2023.
Full Paper Submission                                 : October 18th – 23th, 2023.
Peer Review Article                                       : October 26th, 2023.
CONTACT US PAGE
The 8th ICE on IMERI 2023 Conference Secretariat
IMERI Building, 2nd Floor – Education Tower
Jln. Salemba Raya No. 6, Jakarta Pusat 10430, INDONESIA
Website : https://imeri.fk.ui.ac.id/
E-mail: imeri-ic@ui.ac.id
Instagram: @iceonimeri
Whatsapp only:
+62 812-8202-1200 (Paper Submission)
+62 813-5705-6016 (Ms. Umda)