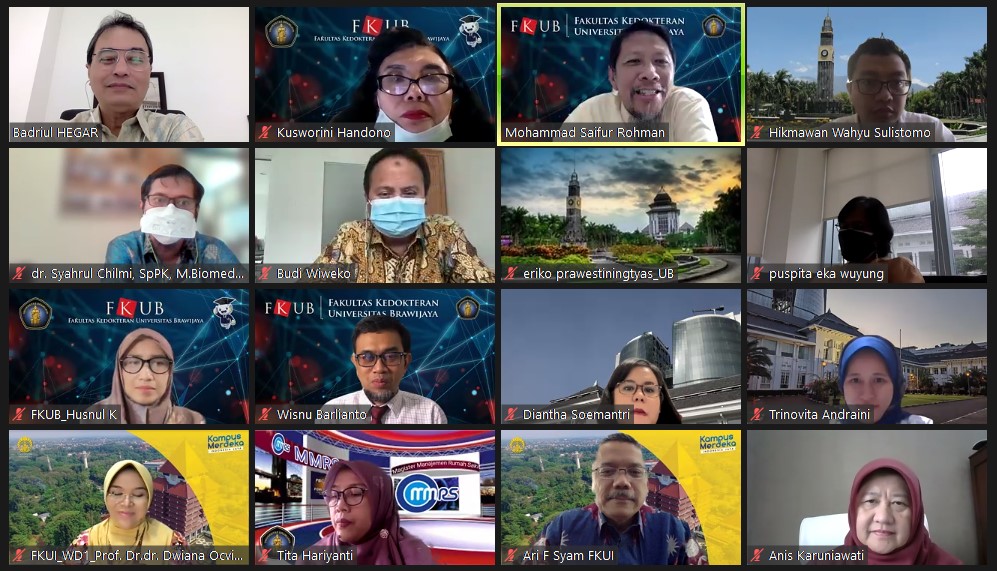 On Tuesday, February 15, 2022 IMERI and Faculty of Medicine Universitas Indonesia welcomed Faculty of Medicine Brawijaya University (FK UB) for online benchmarking visit.
During the fruitful discussion, the Dean of FK UB, Dr. dr. Wisnu Barlianto, M.Si.Med, Sp.A(K) accompanied by 1. Prof. Mohammad Saifur Rohman, MD, PhD, 2. Dr. dr. Masruroh Rahayu, M.Kes, 3. dr. Eriko Prawestiningtyas, Sp.F as the Vice Deans with their respective Expert Staffs, Prof. Dr. dr. Kusworini, MKes, SpPK(K) as the Head of Central Biomedical Laboratory and other related Faculties.
Prof. Dr. dr. Ari Fahrial Syam, SpPD-KGEH., MMB as the Dean of FK UI was present and delivered his presentation about FK UI, along with Prof. Dr. dr. Dwiana Ocviyanti, SpOG(K), MPH and dr. Anis Karuniawati, PhD, SpMK(K) as the Vice Deans.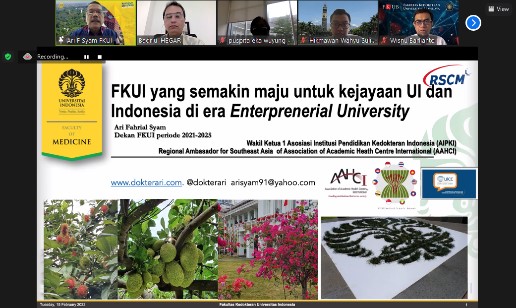 From IMERI, the Board of Directors were all present during the discussion. Prof. dr. Badriul Hegar, PhD, SpA (K) as the Director delivered a presentation about IMERI, followed by updates from Prof. Dr. dr. Budi Wiweko, SpOG (K), MPH as the Vice Director of Medical Science and Innovation and dr. Diantha Soemantri, MMedEd, PhD as the Vice Director of Medical Education. Dr. dr. Trinovita Andraini, MBiomed, PhD as the Executive Secretary concluded the presentation with further explanation regarding IMERI's finance and administrative practice. Dr. Dra. Puspita Eka Wuyung, M.S as the Head of Animal Research Facilities IMERI was also present during the discussion.

The online discussion ended with a Q&A Session between the three institutions.